On 13th March 2018, Etsy announced a partnership with Square that allows sellers to accept payments in person. This option replaced the existing in-person payment options on Etsy.
The "Sell now" area of the Sell on Etsy App and Etsy card readers were deactivated on 31st March 2018.
Who can use Square
Sellers who reside in the US*, UK, Canada, or Australia can sign up for Square and connect to their Etsy shop and inventory.
Getting started with Square
If you currently use Etsy's card reader you can get started with Square by going to the Add Channels area of your Shop Manager.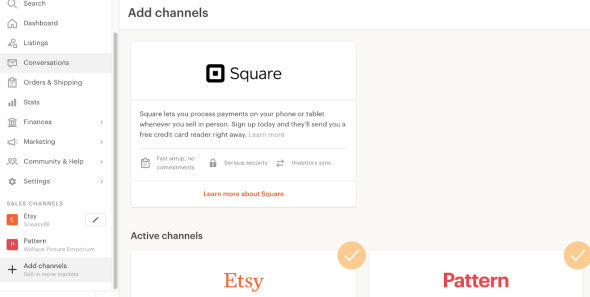 After signing up or signing in, you'll be able to connect to your Etsy shop and sync your Etsy inventory with Square.
Locations and Syncing
Locations
When you sign up or sign in to Square and connect to your Etsy account, you'll be prompted to select or create a location – meaning the shop you sell from.
Square's location management feature allows users to create multiple locations for businesses that sell in multiple retail locations. If you're using Square exclusively to sell your Etsy items in-person, you likely won't need to create multiple locations. However, if you have multiple Etsy shops, you'll need to create a Square location for each.
The location you choose to associate with your Etsy shop will allow Square to sync your shop inventory. It will also sync in-person sales you have on Square back to your Etsy account.
You can change your location information from the Square Sales Channel page in your Shop Manager.
Syncing your listings
After you've created or selected a location, you can sync your Etsy inventory to your Square account.
To sync, go to the Square Sales Channel page in your Shop Manager and choose Sync your Listings near the top of the page. You can also sync your listings in the bottom right corner of your Listing Manager.
Once your inventory is synced, all of your items will be available in the Square POS App (available in the iOS App Store or Google Play) for in-person sales. When you sell items in-person they will be captured in your Etsy Stats, and your online inventory will adjust in real-time.
You do not need to update your Etsy inventory while on Square.
Fees for using Square
Etsy does not charge additional fees for items sold through Square via inventory sync. Listings synced through Square will have the same $0.20 USD auto-renewal fee as listings sold on Etsy.
When listings are not synced from a seller's Etsy shop inventory, Etsy will charge $0.20 USD per transaction.
Square will charge additional processing fees that vary by the type of sale. You can find more information on the Square Fees and Payments FAQs.
Fees breakdown, charged by Etsy:
| Type | Fee |
| --- | --- |
| Listing auto-renewed via inventory sync, additional quantity available | $0.20 USD standard auto-renew sold fee |
| Square manual (listing not synced from Etsy) | $0.20 USD per transaction |
Fees breakdown, charged by Square:
Type
Fee
Swiped sales

2.6% plus $0.10 USD

 fee per transaction
Manually entered sales
3.5% plus $0.15 USD fee per transaction
Signing up and using Square
Free with no monthly minimums
You can find more information on the Square Fees and Payments FAQs.
Disconnect from Square
If you need to disconnect your Etsy shop from your Square account, go to the Square Sales Channel page and select disconnect my shop from Square near the bottom of the page.
Help with Square
Visit Square's help centre or Contact page for more info about using Square.
For guidance selling in-person using Square, check out more useful tips and information in the Etsy Seller Handbook: How to Offer the Best In-Person Customer Service.

*At this time, Square is unavailable to sellers who reside in US territories, including Puerto Rico and Guam. Reach out to Square directly for information on their availability geographically.