Buy USPS Shipping Labels on Etsy
Here's what you need to know about Shipping Labels on Etsy:
There are no additional fees from Etsy to use Etsy Shipping Labels.

Labels can be used to ship to both domestic and international orders. Learn more about international shipping labels.

The total cost of your shipping label is the sum of all shipping fees (postage, signature confirmation, insurance).

The cost of your shipping label and any additional fees will appear on your Etsy bill.

If you purchase parcel insurance on Etsy, the cost of insurance will appear separately on your bill as "Shipsurance Parcel Insurance," and will include the shipping label number.

A breakdown of these costs is outlined on the label purchase page, in the email notification sent after a label has been purchased, and on your label and order receipts.

The first time you print a label, you'll complete a quick on-boarding where you set your default Ship From address.
Note: Your phone number is required, but will be only visible on USPS domestic Priority Mail Express and all international labels, per USPS policies.
Also be sure to check out this Seller Handbook post and get some great shipping tips!
Click here to read about calculated shipping.
How to Purchase Shipping Labels
First, go to your Shop Manager > Orders & Shipping, find your order and click Print Shipping Label. Orders have to be marked as paid to have this option.

You will be taken to your label purchase page. Here you can enter your package specifications.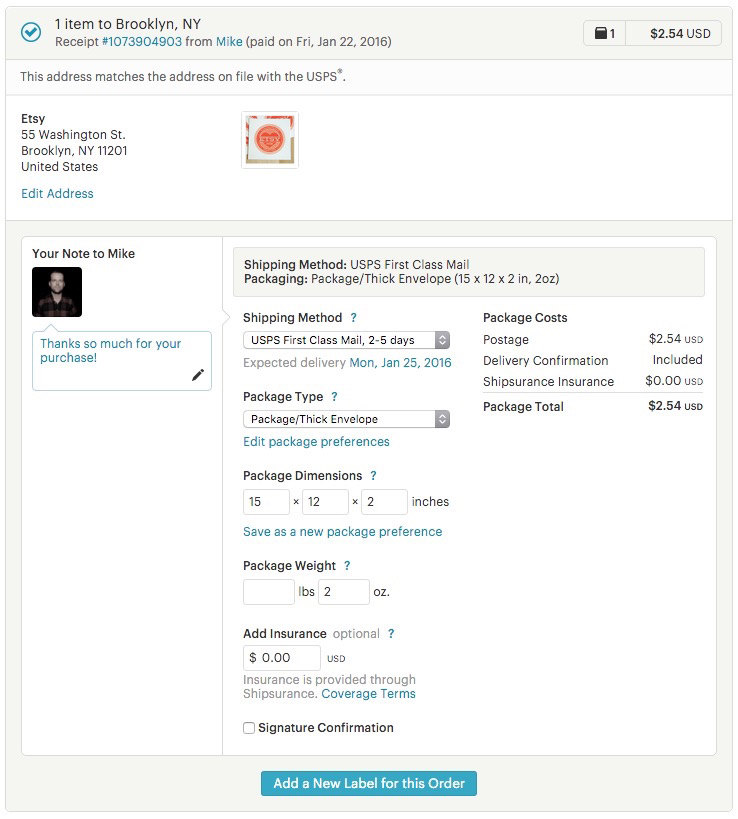 Review your Ship To and Ship From addresses, as well as the Ship Date, and edit if necessary.
If the buyer-entered address does not match the USPS recommended address a notification will appear above the Ship To address. 

You will have the option to view the two addresses and decide which version you would like to use for your label. You'll also have the option of editing the original version. Most of the time, the differences between the two addresses will be small.

On occasion, the USPS may not have an address on file or may drop vital aspects of the address, such as apartment number. If you're ever in doubt about the buyer-entered address, you can contact them directly to confirm their information before purchasing your label.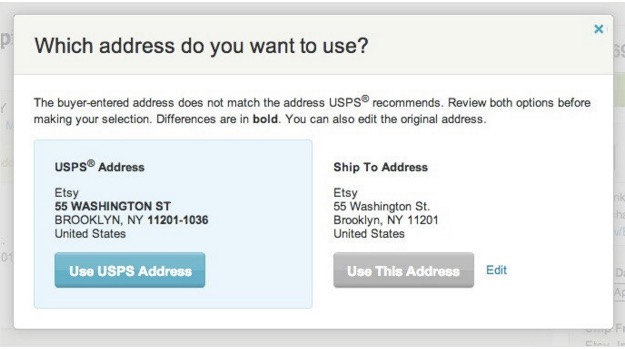 If your return address is not in the same ZIP Code as your drop-off post office, you can specify a different ZIP Code at the bottom of the Ship From address.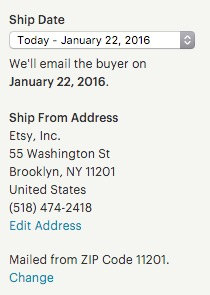 To do so click Change next to Mailed from Zip Code.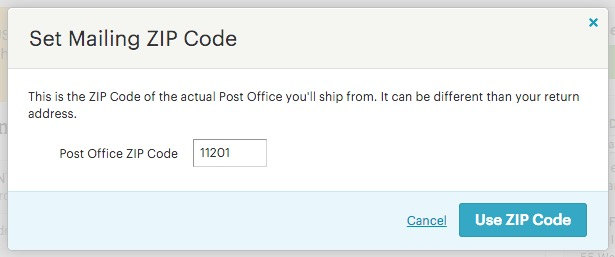 Your ZIP Code will be saved for future shipping labels.
Select a shipping method, package type, dimensions, and weight. This is also where you can choose to purchase signature confirmation and parcel insurance provided by Shipsurance Parcel Insurance.
Calculated shipping
If you use calculated shipping on Etsy, all of the package details of the orders for which calculated shipping was used to determine shipping costs will automatically import into the shipping label purchase page. Just double-check the details and click Confirm and buy.
Note: You may always edit or change the shipping label details for your orders before purchasing your label.
If you'd prefer to enter those details yourself, you may turn off this setting by going to Shop Manager > Orders & Shipping > View shipping labels in the top left of the page. Then, click the Options tab, scroll down to the section marked Pre-filled calculated shipping labels and select I'll fill each label out manually.

Make sure to click Save at the bottom of the page to save your changes. Learn more about calculated shipping.
If you don't use calculated shipping, you may save your most commonly used package dimensions for quicker use in the future by clicking the Edit package preference link just below the Package Type dropdown menu.

Click Add a package preference.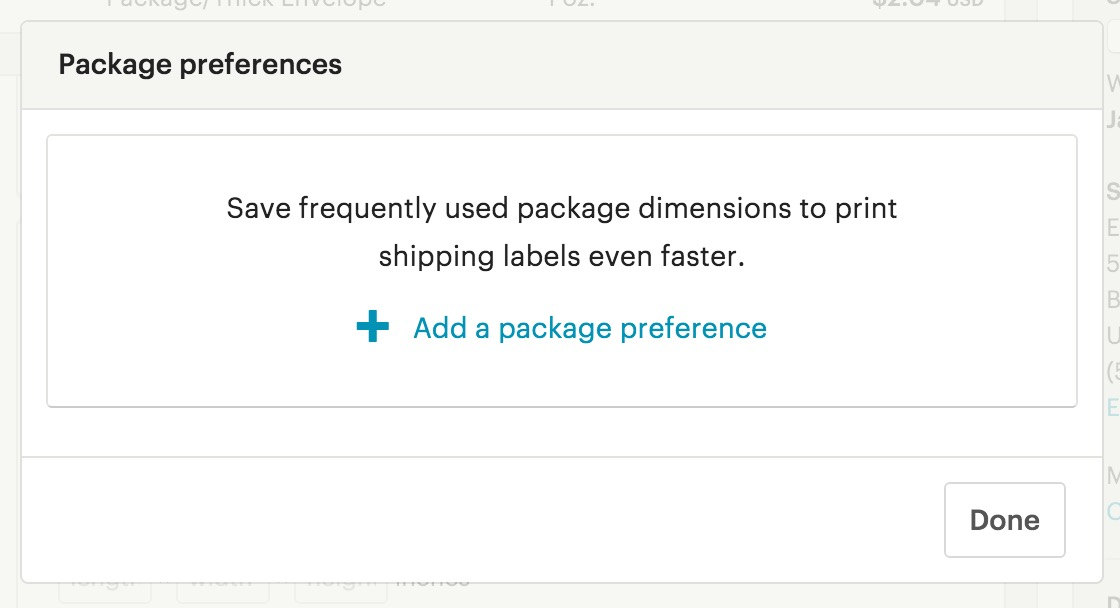 Enter a name and the dimensions of your package then click Save.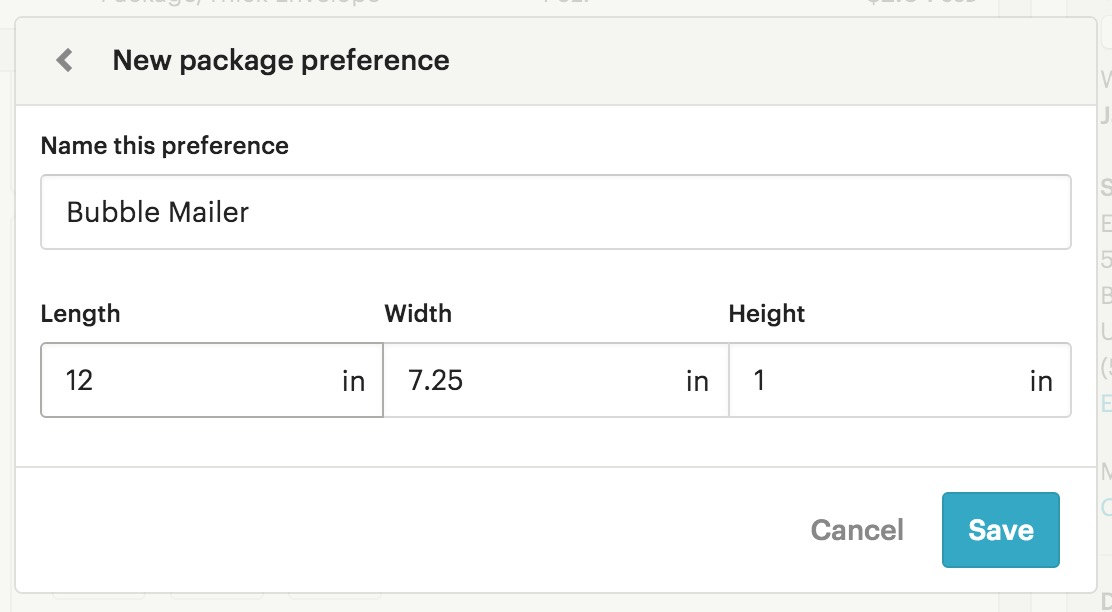 The next time you go to purchase a shipping label, your package preference will appear as an option in the Package Type dropdown under Custom package types.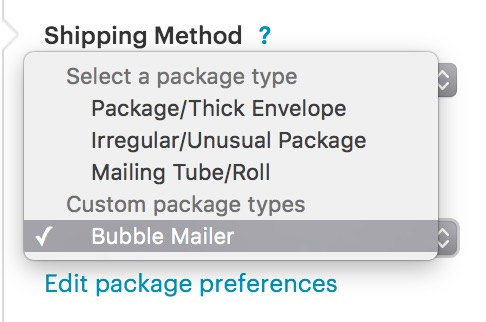 To purchase additional labels for an order, click Add new label for this order and enter the package details for each label.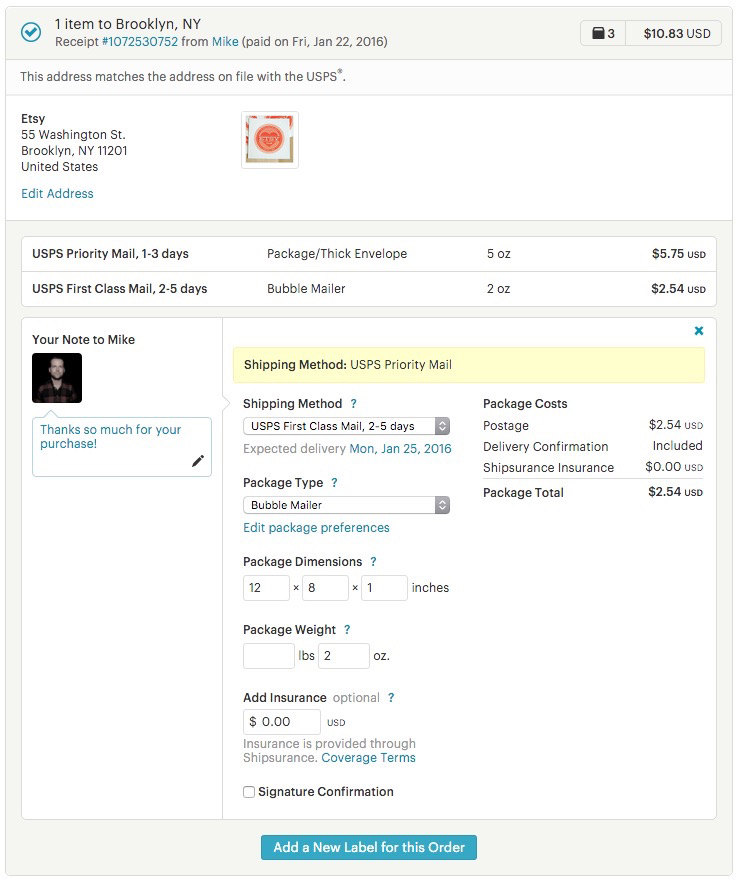 All domestic labels automatically include USPS Delivery Confirmation and tracking. Delivery Confirmation is included for First-Class International and Priority Mail International Flat Rate Envelope & Small Flat Rate Box package types going to the following countries:
Australia, Belgium, Brazil, Canada, Croatia, Denmark, Estonia, France, Finland, Germany, Gibraltar, Great Britain and Northern Ireland, Hungary, Israel, Italy, Latvia, Lithuania, Luxembourg, Malaysia, Malta, Netherlands, New Zealand, Portugal, Singapore, Spain, and Switzerland.
Learn more about shipping insurance.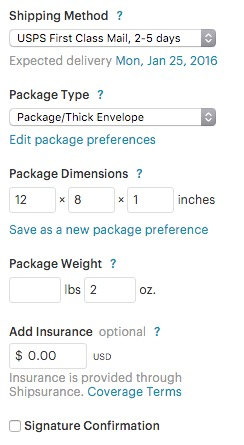 Review the label costs.
Once you've entered all the necessary information, you will see your total cost.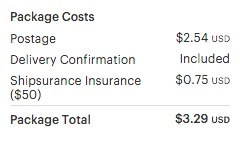 Edit or confirm your "Note to Buyer."
This note will be included with the Shipping Notification that's automatically sent on the Ship Date you have set for that label.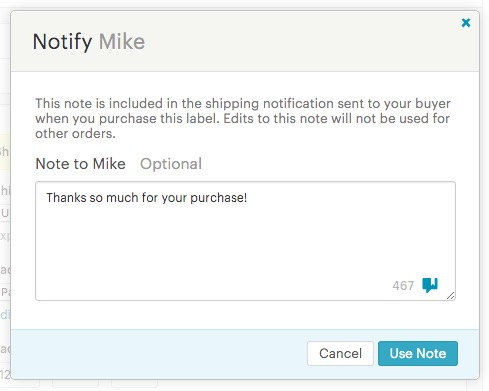 You may save up to 10 different versions of your Note to Buyer by clicking the blue message bubble in the bottom right corner of the message field. When you're finished, make sure to click Use Note.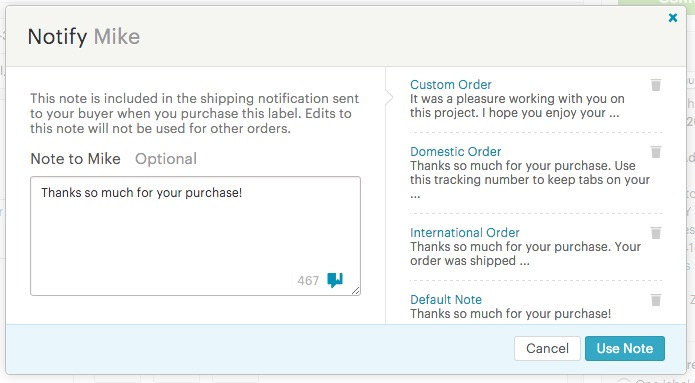 After choosing a Note to Buyer, select Confirm and Buy.

Confirm your labels
If you need to go back and change anything, close the confirmation window by clicking Cancel.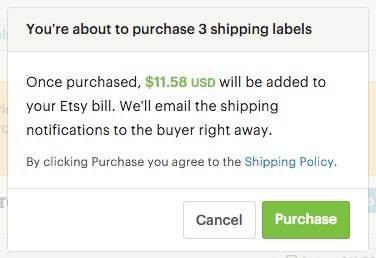 Once you click Purchase, a Shipping Notification will be sent to your buyer, and your order will be marked as shipped. You can download your labels immediately or later by going to the order's receipt page or Shop Manager > Orders & Shipping > View shipping labels > Purchased labels > USPS.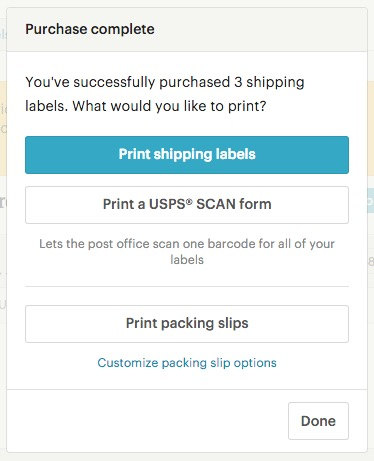 From here, you may also print a USPS SCAN Form for your labels and packing slips for the corresponding orders. Shipping labels, SCAN Forms, and packing slips will each be generated on their own, separate PDFs.
Learn more about USPS SCAN Forms.
Learn more about packing slips.
From the receipt page, you can click Download Label to view and download a PDF of your label in your browser. If you have purchased more than one label for an order, all of the labels will download in one PDF.
You may also print all of the shipping labels you have purchased in a day by going to Shop Manager > Orders & Shipping > View shipping labels > Purchased labels > Summary. Click the gear icon next to today's date and select Download Labels.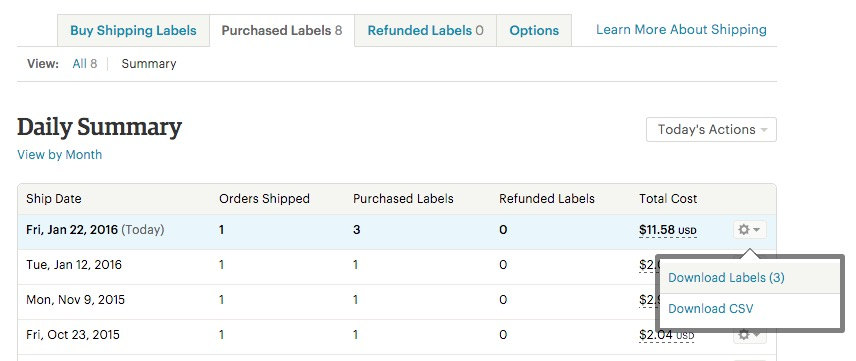 Because PDFs usually require third-party software, make sure that you have a PDF reader installed and that it's up to date.
Note: You'll be able to print your label until the end of its shipping date. It will expire after that.

You can purchase additional labels for a domestic order up to one month after the initial label purchase from the order's receipt page. Learn more about printing international shipping labels.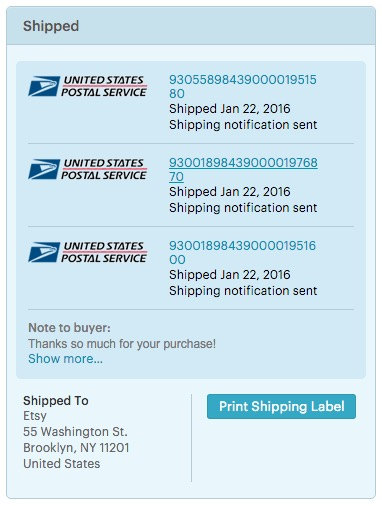 Learn how to purchase shipping labels in bulk.